College Profile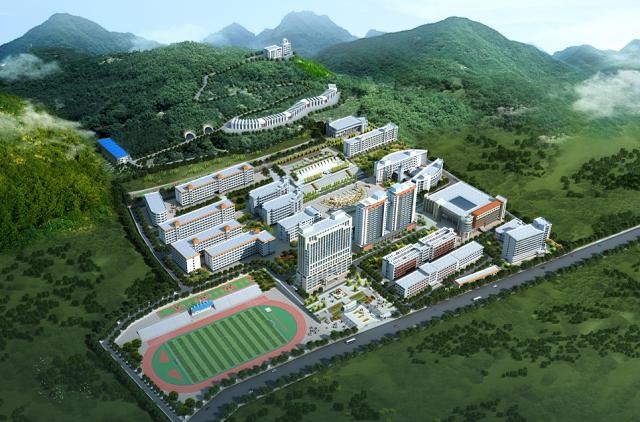 Lanzhou Resource & Environment Voc-Tech College is Construction units of high-level vocational Colleges with Chinese characteristics. It is also a national key demonstrative higher vocational college jointly built by Gansu Provincial Government and Ministry of Emergency Management. It is a college for directionally-trained non-commissioned officers. Being one of the first pilot units for modern apprenticeship, it is also a college in Gansu Province's program to build "Double Tops" College. The college has successively won honors such as The Fourth Huang Yanpei Vocational Education Award, the National Demonstrative College for Employment Competitiveness in Higher Vocational Education, National Defense Education Characteristic College, Top 50 Vocational College in internship management and Top 50 colleges in student management, the Civilized Campus of Gansu and Top 50 Influential Vocational Colleges in the Asia-Pacific Region.
The college covers a total area of 706 acres, with an overall floorage of 360 thousand square meters. It consists of 14 teaching units in 15 major groups, such as meteorology, mining, geology, surveying and mapping, mechatronics, mater conservancy, information, security, environment protection, applied chemical engineering technology, ethnic minority arts, finance and business, jewel-crafting. It has ¥200 million worth of teaching instrument and equipment, and 910 thousand volumes of books and literature. It has established 15 on-campus training bases comprising 177 experimental training rooms. Currently, it has over 16,000 students on common higher vocational education, over 2,000 students on adult education and over 10000 persons' short-term training.
Faculty
Focusing on the training of professional leaders,as well as young and middle-aged key teachers, the college has established a team of teachers with modern educational concepts, noble ethics, sufficient quantity, reasonable structure, high quality and sufficient vitality. At present, there are 55 professors, 216 associate professors, 5 provincial-level outstanding teachers and 2 provincial-level model workers. 1 teacher won the title of National "March 8th" Red Flag Bearer, 6 teachers won the Provincial Gardener Award, 1 teacher won the Provincial "March 8th" Red Flag Bearer title, 7 teachers won the Provincial Young Teacher Achievement Award, 1 teacher won the Huang Yanpei Outstanding teacher Award in vocational education, 1 teacher won the National Excellent Educator, and 2 teachers won the Gansu Provincial Youth Geology Science and Technology Award. Among the professional teachers, the proportion of "bi-expertise" quality teachers is more than 90%. Eight provincial-level teaching teams have been established, such as coal mining technology, mine surveying, mine electromechanical, mine ventilation and safety, etc. Five studios for famous teachers of vocational education in Gansu Province have been built.
Teaching Reform and Scientific Research
The college always adheres to the orientation of social service and attaches importance to technology transfer and the transformation of scientific and technological achievements. The college had successfully won 2 second prizes and 1 third prize for provincial S&T Progress Award, 2 provincial first prizes for Meteorological S&T Progress, 4 provincial first prizes for Coal S&T Progress Award, 1 second prize and 2 third prizes for provincial Social and Technological Progress Award. Since 2011, the college has won 3 second prizes for national teaching achievements, 7 first prizes and 5 second prizes for provincial Teaching Achievements, 1 special prize and 2 second prizes for Teaching Achievements in the coal industry in 2017. In the past three years, more than 1100 academic papers have been published, including 16 EI and SCI papers, and 130 state-authorized patents, including 3 invention patents.
Training Base
The college has successively built 15 on-campus training bases in mining, safety, geology, surveying, meteorology, mechatronics, information, and environmental protection, including 177 experimental training rooms. The first modern simulation mine for coal mine safety in China has been built, and it has been named as one of the first 53 science education bases of land and resources by the Ministry of Land and Resources. The first simulated water conservancy dam in China has been built. The first domestic simulation and training system of aluminum electrolysis was developed. For the first time, the actual scene of the regional weather forecast meeting is introduced into the practical teaching. The college was rated as the National Science Education Base in 2015. The comprehensive training center of meteorological science and technology has been named as the fourth batch of National Meteorological Science Education Bases by China Meteorological Administration and China Association of Science and Technology. The simulation mine, the geological surveying training center, the simulation water conservancy hub and the ground observation reference station are named as the Science Education Base of Gansu Province by the Gansu Provincial Science and Technology Association.
Student Employment
The college mainly trains high-quality technical and skilled talents in meteorology, civil aviation, coal, geology, safety, metallurgy, water conservancy, chemical industry, jewelry and other industries. The main units of student employment are the armed forces, large and medium-sized state-owned enterprises, large-scale private enterprises and institutions. The employment rate and employment quality of graduates have improved year by year, ranking first in higher vocational colleges in the province for many years. The average monthly income of graduates has increased year by year and the professional counterpart rate has reached 88%. Besides, the satisfaction with the employment has increased to 91.42% in 2019. The college was honored as the Provincial Advanced Unit for Employment Work by the provincial government and won the title of National Demonstrative College for Employment Competitiveness in Higher Vocational Education in 2014.
Social Service
The college has many social service institutions. Such as Emergency Management College with National Second-level Safety Training Qualification, Service Platform for Talents in Small, Medium and Micro Enterprises in Gansu Province, an Overseas Employment Service Center for College Students in Gansu Province, Submarket of Gansu Human Resources Market, Gansu Branch of China Meteorological Administration cadre training College, Xinglong International Business School for Lanzhou Hand-Pulled Noodles with Beef, National Continuing Education Base for Professional and Technical Personnel, Training Base for Professional Key Teachers of National Higher Vocational Colleges, Gansu Safety Education and Training Base of the State Administration of Safety Supervision, Gansu Provincial Civil Servants Training Base, Longyuan Craftsman Training Base, Gansu Provincial Employment and Entrepreneurship Incubation Base for Veterans, the Eighth National Vocational Skills Appraisal Institute of Gansu Province. Every year, more than 10,000 person-times of professional training were done by the college.