University Profile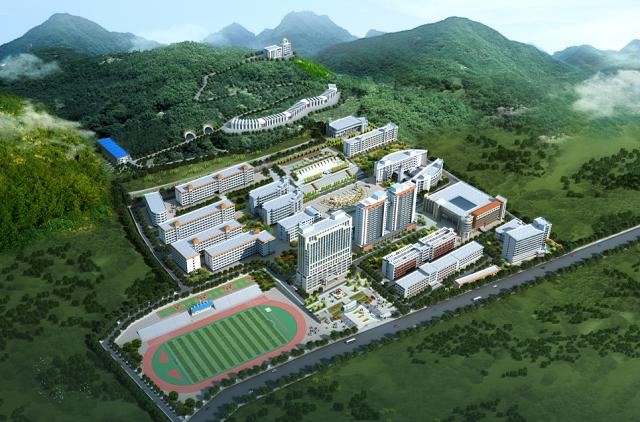 Lanzhou Resource and Environment Vocational and Technical University is a public undergraduate-level vocational university established with the approval of the Ministry of Education and the approval of the Gansu Provincial Government by integrating the educational resources of Changqing College of Lanzhou University of Finance and Economics and Lanzhou Vocational and Technical College of Resources and Environment. The predecessor of the school was the former national key technical secondary school Lanzhou Meteorological School (founded in 1951) affiliated to the China Meteorological Administration and Gansu Coal Workers University (founded in 1984) affiliated to the Gansu Coal Industry Bureau. In 2004, it was registered by the Ministry of Education and approved by the Gansu Provincial Government. In March 2021, with the approval of the Gansu Provincial Government, the Gansu Provincial Water Conservancy and Hydropower School (founded in 1951), a national key technical secondary school, was integrated into Lanzhou Resources and Environment Vocational and Technical College.
Since the establishment of the school, the school has adhered to the school-running spirit of "hard work and never give up", and continuously promoted the reform of education methods, school-running models, management systems, and security mechanisms, and formed the school-running concept of "harmonious education" and "quality first". The school motto, the school spirit of "seeking truth and being pragmatic", the teaching style of "cultivating people with morality" and the study style of "unity of knowledge and action". In more than 70 years of school-running practice, it has made important contributions to national and regional economic and social development. The quality and efficiency of the school's development have created a "resource and environmental model" for higher vocational education in Gansu. The school is one of the 56 high-level vocational schools with Chinese characteristics selected by the Ministry of Education and the Ministry of Finance. The first batch of 11 pilot colleges and universities for targeted training of non-commissioned officers in the country are the first batch of modern apprenticeship pilot units and educational informatization pilot units in the country determined by the Ministry of Education. The provincial and ministerial co-construction institutions, the provincial-level "double first-class" university project construction institutions and high-quality higher vocational colleges determined by the Gansu Provincial Government. Won the 4th National Huang Yanpei Vocational Education Award, Top 50 National Vocational College Practice Management and Top 50 Student Management, National Vocational College Campus Culture "One School One Product" Demonstration School, Ministry of Education Curriculum Ideological and Political Research Demonstration Center, Gansu Province No. 1 Honors such as a civilized campus, a model school for party building work in Gansu Province in the new era, and a model school for ideological and political courses in Gansu Province.
The school has more than 20,000 full-time students, including 800 undergraduates, more than 18,800 vocational students, and more than 500 secondary vocational students. There are currently 4 campuses and 1 demonstration park for the integration of production and education, covering an area of 2,307 acres, with a construction area of 433,700 square meters, and a total value of 302.54 million yuan for teaching and scientific research equipment. It has built 210 off-campus practice and training bases with the government and enterprises. There are 191 on-campus training rooms (including 3 national-level productive training bases, 1 national-level vocational education demonstration virtual simulation training base, and 1 provincial-level key laboratory), and the library has a collection of 1.43 million volumes.
The school mainly trains high-level technical and skilled talents for the national meteorology, civil aviation, coal, geology, safety, metallurgy, water conservancy, chemical industry, jewelry, finance and trade and other industries. Since the establishment of the school, the school's scale has grown steadily, its social reputation has continued to rise, the quality of its students has improved simultaneously, and its overall admission score has remained at the forefront of higher vocational colleges in the province. The school was commended as a national model school for employment competitiveness of vocational colleges, an advanced employment unit in the province and a model university for college student employment in Gansu Province. In the 2018 National College Graduates' Employment and Entrepreneurship Work Network Video Conference, on behalf of higher vocational colleges, he made an exchange speech on the excellent typical experience of college students' employment and entrepreneurship. The school is a member unit of the presidium of the National Joint Conference of Vocational College Principals, an executive director unit of the China Vocational and Technical Education Society, a director unit of the China Vocational Education Society, an executive director unit of the China Adult Education Association, and a vice-chairman unit of the Emergency and Safety Industry-Education Integration Alliance. Member of the Research Center for the Inheritance and Development of Chinese Excellent Traditional Culture.
The school focuses on cultivating professional leaders and young and middle-aged backbone teachers, and has established a team of teachers with modern education concepts, noble morality, sufficient number, reasonable structure, high quality and full of vitality. There are 1,127 faculty members, including 73 senior titles and 306 deputy senior titles. "Double-qualified" teachers account for 79.8% of full-time teachers in professional courses. 1 teacher won the title of National "March 8" Red Banner Bearer, 1 teacher won the National Outstanding Educator, 1 teacher won the National Huang Yanpei Vocational Education Outstanding Teacher Award, 1 teacher won the Provincial Excellent Party Worker, and 4 teachers won the National Outstanding Teacher Award. Provincial-level teaching teachers, 2 teachers were rated as provincial-level model workers, 10 teachers won the provincial gardener award, 2 teachers were awarded the title of "March 8" Red Banner Bearer in the province, 7 teachers were awarded the provincial-level young teacher achievement award, 2 The famous teacher won the Gansu Provincial Youth Geological Science and Technology Award. There are 18 provincial-level teaching teams, 18 provincial-level famous teacher studios, and 1 national-level "double-qualified" teacher training and training base.
The school focuses on the national strategy and the needs of regional economic and social development. According to the professional group construction strategy of "dislocation setting, non-balanced construction, star management, and professional group development", the school has formed meteorology, metallurgy, environmental protection, safety, finance and trade and other industries that closely connect with Gansu. Specialized layout of resources and environment for talent needs. Now there are 14 professional groups, including 22 vocational undergraduate majors, 7 provincial-level specialty majors, 9 provincial-level backbone majors, 10 national-level backbone majors, and 2 provincial and national high-level professional groups. He presided over 1 national-level professional teaching resource library, won 3 second-class national-level teaching achievement awards, 35 provincial-level teaching achievement awards, and 26 online excellent courses.
The school adheres to the scientific research orientation of "production, education, research and application", and attaches great importance to technology transfer and transformation of scientific and technological achievements. Over the years, the reform of the scientific research system and mechanism has been continuously deepened, and the cooperation with government functional departments and industry enterprises has been vigorously strengthened. Provincial military professional personnel training military-civilian integration collaborative innovation center and other scientific research platforms. It has successively established 253 vertical scientific research projects above the municipal level, with a vertical scientific research project funding of 11 million yuan and a horizontal scientific research project of 7.72 million yuan. The faculty and staff have published nearly 2,400 academic papers, authorized 387 various intellectual property rights, and obtained the city and department level. There are 17 scientific and technological awards above.
The school attaches great importance to social services, gives full play to its brand advantages, and is committed to improving the modern vocational education and training system and promoting the construction of a skilled society. It has established a training and cultivation base for principals of vocational colleges of the Ministry of Education, a national continuing education base for professional and technical personnel, a national professional backbone teacher training base for higher vocational colleges, the Gansu branch of the China Meteorological Administration Cadre Training College, and the national non-ferrous metallurgical technology "double-qualified" teachers. Training and Training Base, Gansu Emergency Management College, Gansu Province Small and Medium-sized Enterprise Talent Accurate Service Platform, Gansu Province College Student Overseas Employment Service Center, Gansu Province High-skilled Talent Training Base, Xinglong Lanzhou Beef Ramen International Business School, Longyuan Craftsman Training Base, There are more than 30 social service platforms such as the Coal-based Industry College, providing various professional trainings to the society for about 25,000 person-times each year, with a service payment of more than 23 million yuan.
Standing at a new historical starting point, the school will be guided by Xi Jinping Thought on Socialism with Chinese Characteristics for a New Era, fully implement the fundamental task of building morality and cultivating people, actively explore the school-running model and development path of undergraduate-level vocational colleges with Chinese characteristics, and strive to cultivate theoretical foundations High-level technical and skilled talents with practical skills, good operational skills, strong sense of innovation, and high information literacy will form a talent training highland; help regional industrial upgrading to form a social service highland; increase technological added value and form a technological innovation highland; serve the "Belt and Road" , striving to be a pioneer in the opening up of vocational education to the west, and moving forward resolutely towards the goal of building a high-level vocational and technical university with distinctive features that is inseparable from the place, recognized by the industry, and exchangeable internationally.